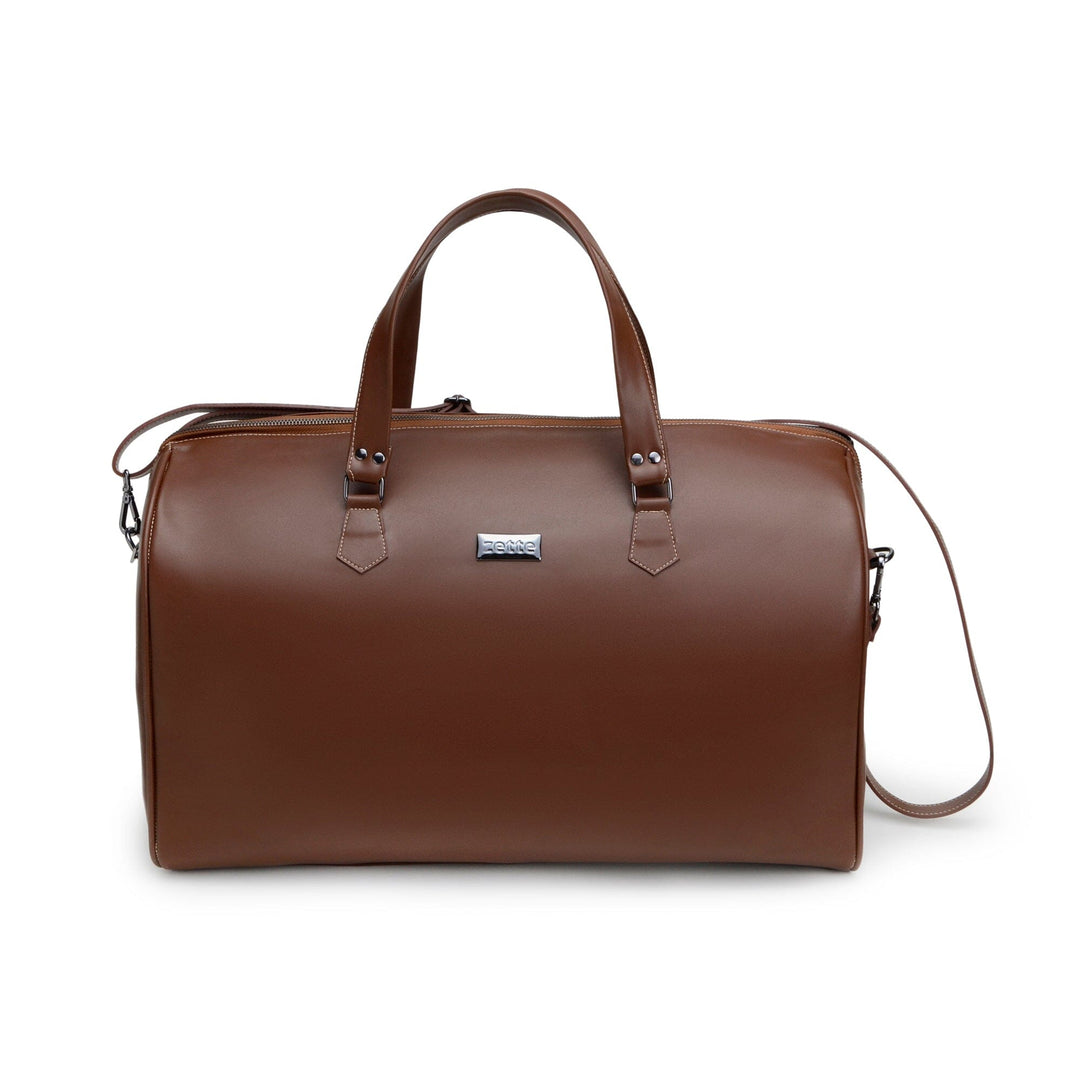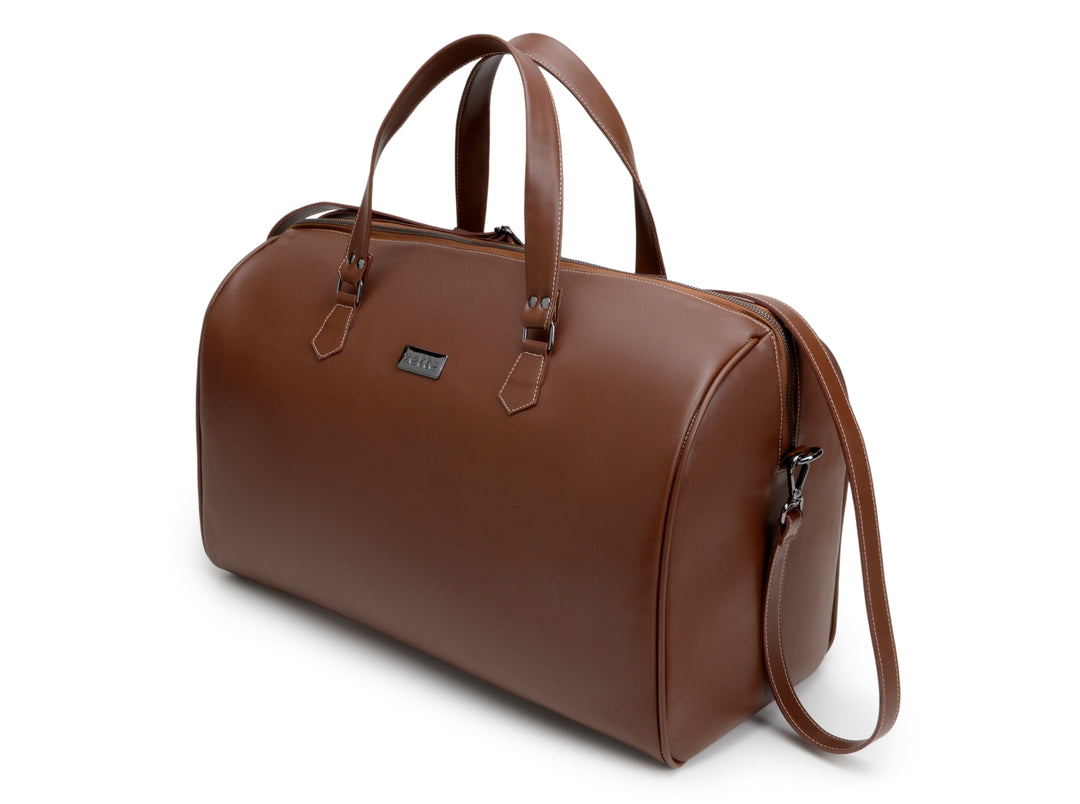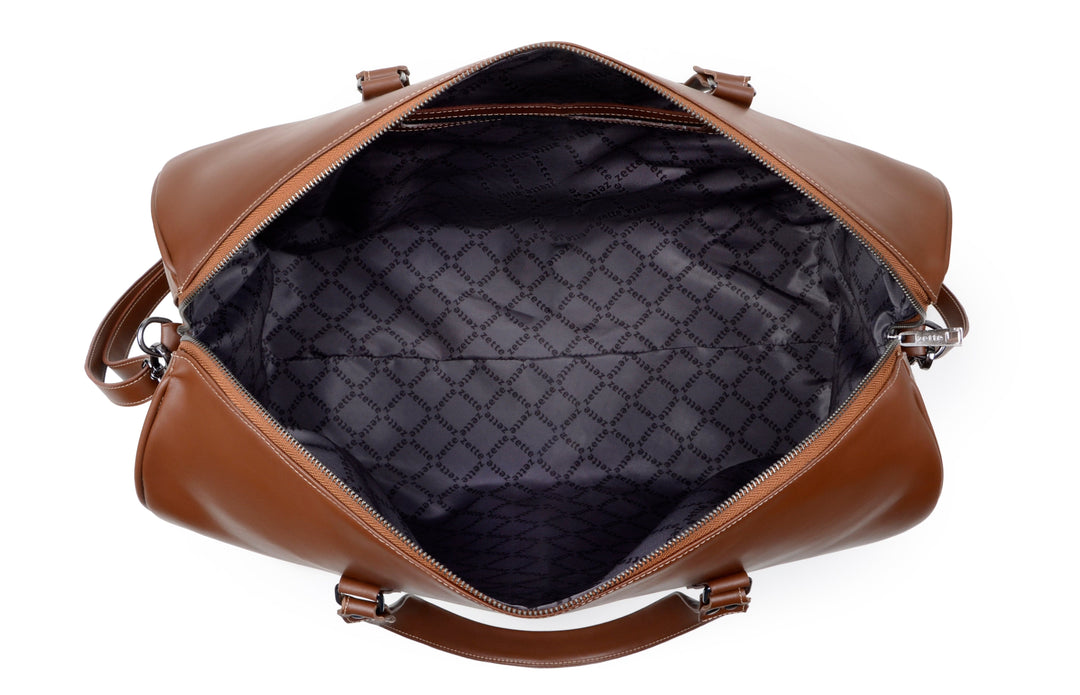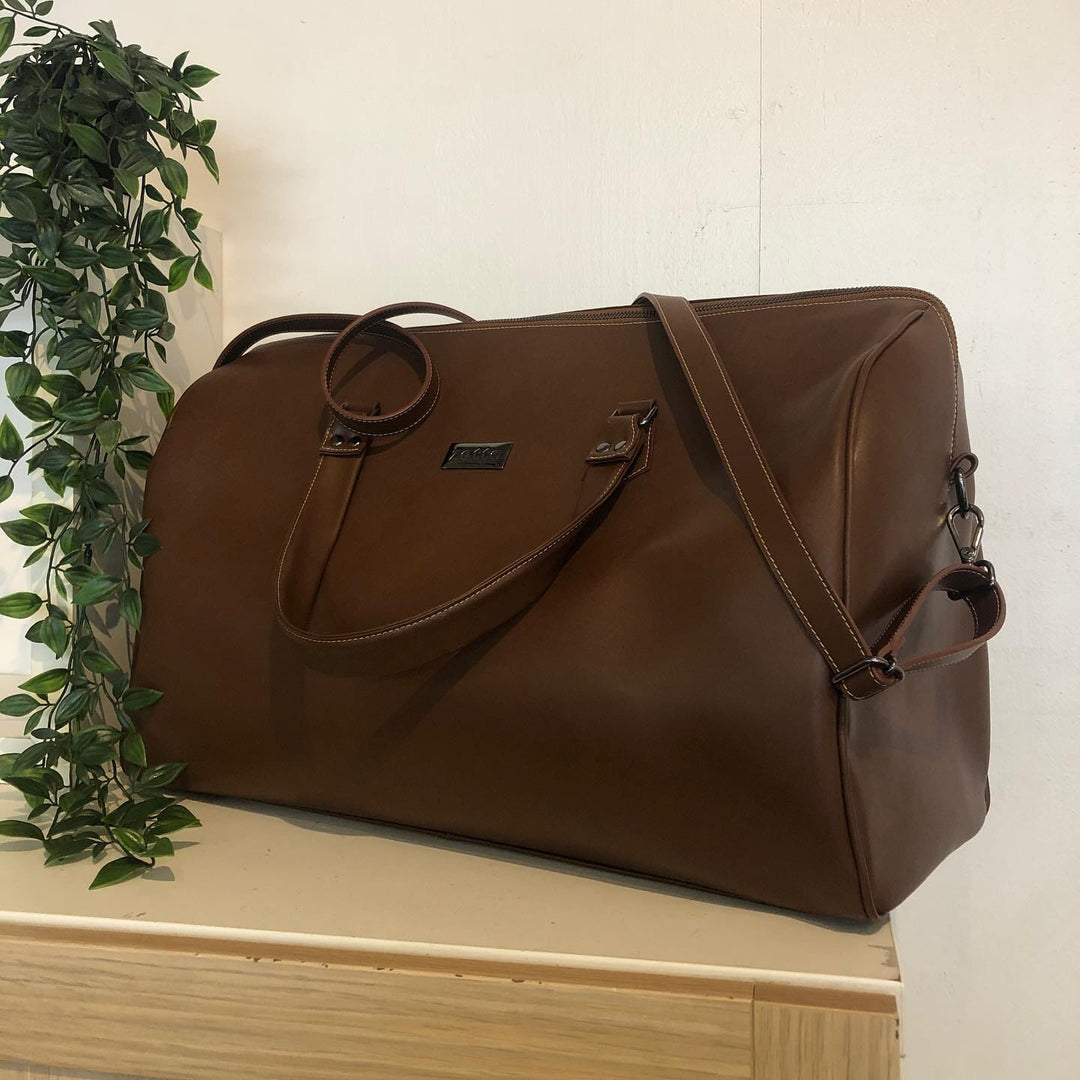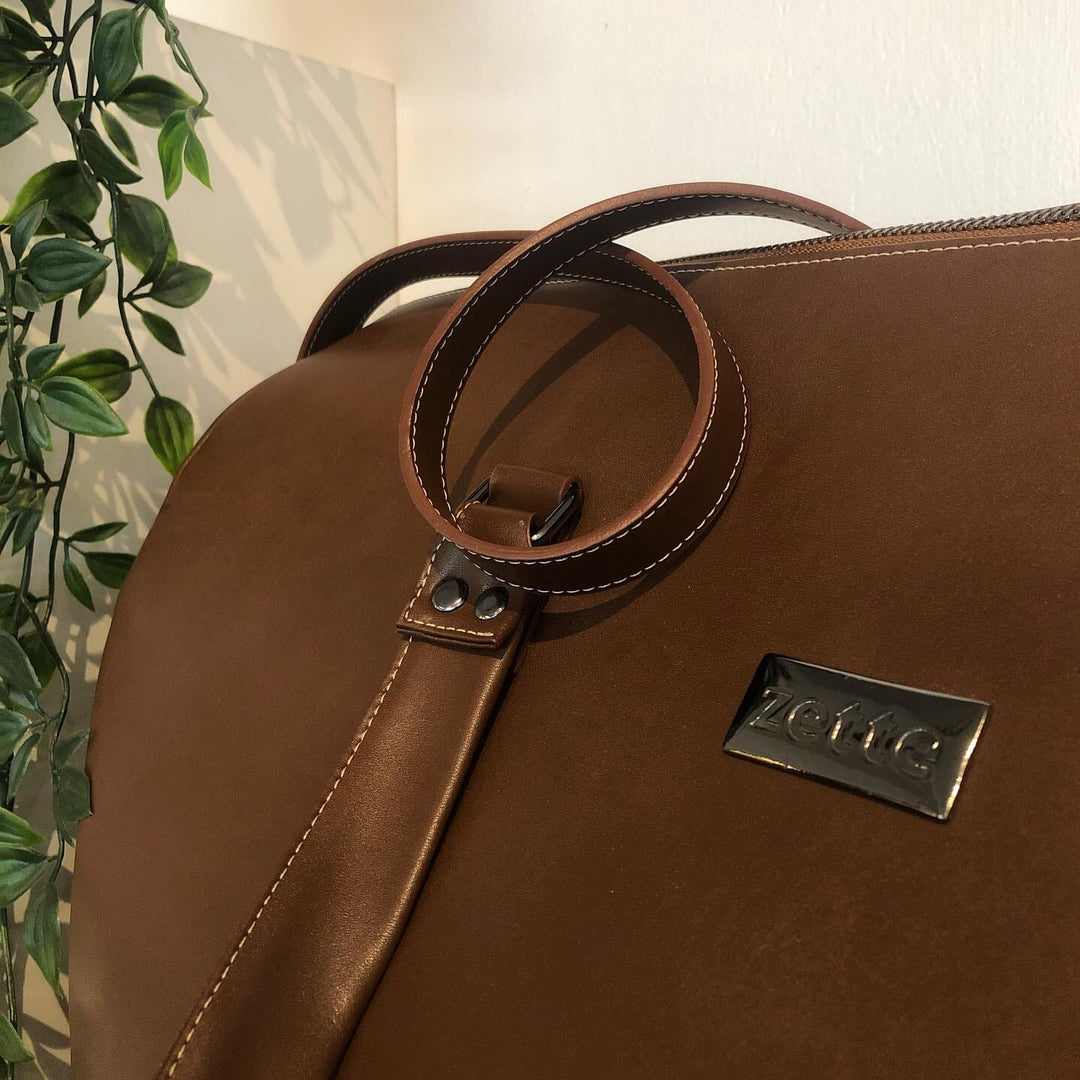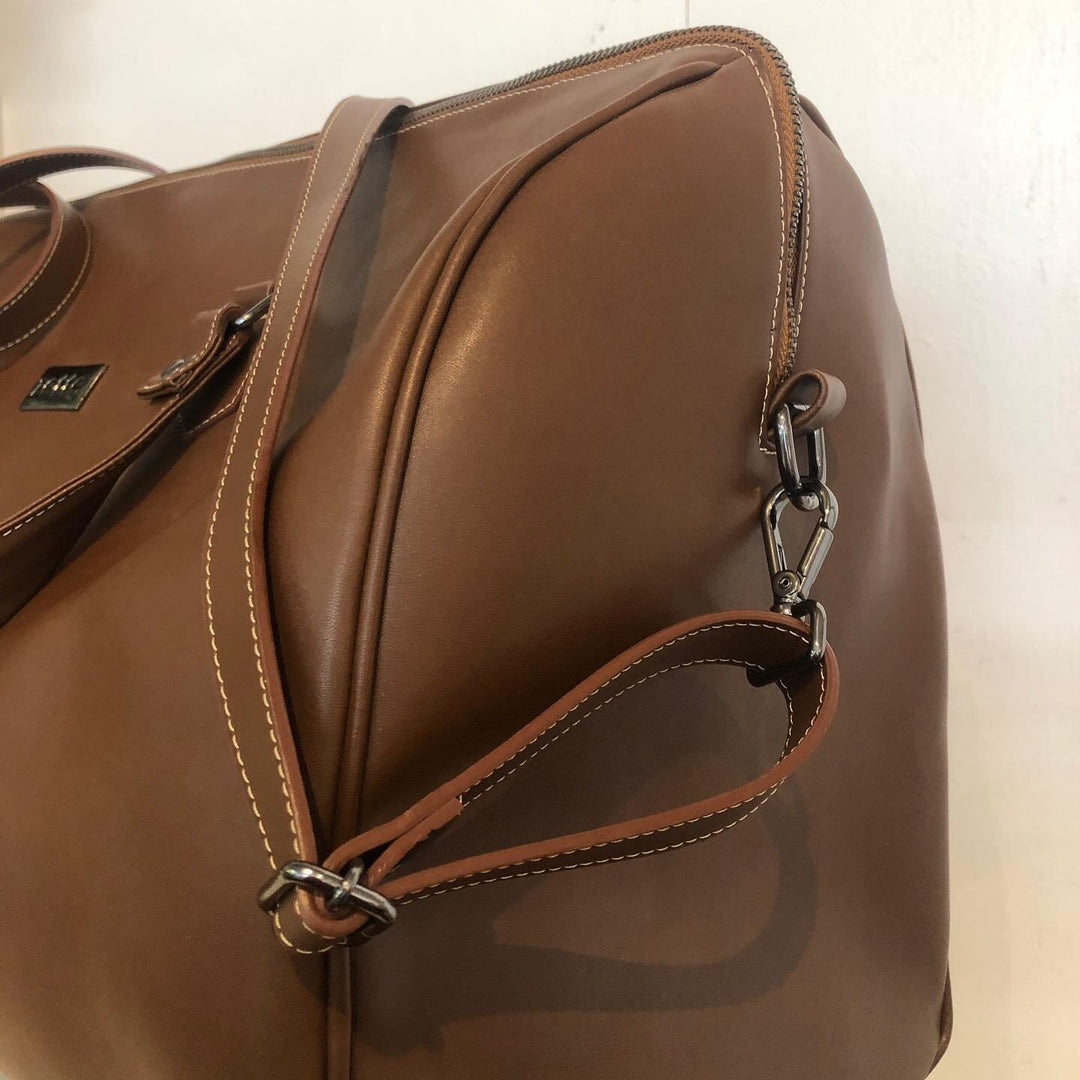 'Brunswick' unisex travel bag by Zette - cognac
---
Free shipping within Australia for orders over $100
Low stock - 3 items left

Inventory on the way
Introducing the epitome of luxury travel: our exquisite unisex travel bag the 'Brunswick' which is meticulously crafted from premium vegan leather. Designed with the discerning traveler in mind, this exceptional piece combines elegance, functionality, and ethical craftsmanship, making it a must-have companion for your globetrotting adventures.
Available in sophisticated black and rich cognac, this travel bag exudes timeless style, effortlessly complementing your jet-setting persona. The impeccable craftsmanship and attention to detail showcase the finest quality vegan leather.
To ensure maximum comfort and versatility, we've thoughtfully included two different strap sizes. Whether you prefer a shorter strap for effortless handheld carrying or a longer one to sling it comfortably over your shoulder, this travel bag adapts to your needs. Experience ultimate convenience as you navigate bustling airport terminals, picturesque streets, or breathtaking landscapes.
Inside this travel bag, you'll find a carefully designed pocket that provides a secure sanctuary for your travel essentials. Safely stow your passport, boarding passes, or small valuables, knowing they're always within reach when you need them most. Stay organized and travel with ease, making every journey a seamless and enjoyable experience.
Also available in black.
Material: Premium Vegan Leather 

*Oeko-Tex certified

Colour: Cognac
Dimensions:

height - 30cm
width - 50cm
depth - 22cm

Two straps
Inside zipper
Made fairly in an all-vegan factory in Brazil
View all our luxury vegan bags


About Zette Shoes
Offering sophisticated vegan shoes and accessories for women and men, Zette Shoes is our in-house vegan footwear and accessories brand. Made from luxurious, cruelty-free materials, each Zette shoe is handcrafted in Brazil and Europe (Spain and Portugal).
As lovers of animals, we name all of our Zette styles after rescue cats we've fostered at Vegan Style HQ (now over a hundred).
Launched in 2014, our mission with Zette Shoes is to create premium ethical, vegan footwear, in styles that are bold and playful, as well as elegant and sophisticated.
Picture of Justin and his beloved rescue Zette - Founder of Vegan Style and Zette
Read more about Zette
Read our interview with Zette (our cat) the official CEO
Browse our range of Zette Shoes and accessories
We will get your order out to you straight away. Check out our shipping page for more information.
We understand that sometimes getting the correct sizing from an online order is difficult so we're more than happy to exchange items that are the incorrect size.
Made a purchase and changed your mind? We're happy to exchange, credit or refund items returned within 14 days under certain conditions for all items purchased at full price. Please note we're unable to refund discounted items (including where a discount code has been used), however we will happily offer an exchange or a credit note (valid for three years).
For more detail, see our full returns policy page.
Care Instructions Zette Bags and Wallets
Do:
- Wipe down using a damp soft cloth with warm water, and then dry with dry cloth.
- Harsher stains use a little mild soap.
- Air dry away from heaters and direct sunlight.
- Store your handbag with care: keep out of the sunshine and store in a cool, dry place where the material can breathe.

Avoid:
- Machine washing or drying vegan-leather; opt for specialised care instead.
- Ironing vegan-leather products, as heat can damage the material.
- Refrain from using harsh chemicals, including bleach or ammonia, as they can compromise the quality of the vegan leather.
- Avoid soaking or immersing vegan leather items in water, as it can cause damage and deformation.
- Store vegan leather items away from direct sunlight to prevent fading or drying out of the material.